2019/03/29
GbE over SDH/SONET services: O9500R/O9400R new interface card
Product News
GbE over SDH/SONET Interface Card
to Provide E-line and E-LAN Services
8GESW
provides four electrical ports and four SFP housing optical ports and contains its own Ethernet switch for L2 functions including VLAN, Link Aggregation, MSTP/RSTP, Flow Control, QoS, and IGMP.
Max. 4 x 8GESW cards on O9500R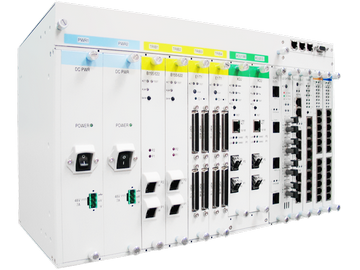 Max. 8 x 8GESW cards on O9400R

E-Line Services are point-to-point Ethernet LAN bridging services to connect two remote sites. A single 8GESW card can provide:
- 4 Port-based E-line Services or
- 8 VLAN-based E-line Services
E-LAN services are multi-to-multi points Ethernet LAN bridging services to create a service provider level switching domain that connect multiple remote sites. 8GESW card contains a VLAN-enabled switch and provides:
- 48 Virtual Groups for WAN transportation
- 1024 VLANs for switching LAN traffic
LAN Bridging over SDH/SONET
As most of O9400R and O9500R's plug-in cards, two adjacent 8GESW cards can form a protection group and share the same configuration. The primary card is by default the working card, while the secondary card stands by. Working card failure will trigger instant card switching without any service interruption.